The following two tabs change content below.
Sara Nakash, Brooklyn bred, world tread. She has braved prison ghost cats in New Zealand, was involved in a bush taxi car chase in Togo, and accidentally biked from Luxembourg to Germany. Her love of travel was matched by her frustration in finding a service to cater to her particular travel goals. From this frustration Off the Map Travel was born. Here anyone can escape those cookie cutter travel packages and truly embrace the nature of your destination.
Latest posts by Sara @ Off The Map Travels (see all)
When some people think of traveling the Caribbean islands, they think of yachts, resorts, and beaches; however a winter Caribbean vacation doesn't have to mean forfeiting adventure for the warmth of the tropics.
In 2009, I was invited to take a cruise through the Southern Caribbean. At first, I was hesitant. My only understanding of Caribbean travel came from classmates who spent their holidays sunbathing in Aruba and from Travel Channel shows like "21 Hottest Caribbean Escapes." I wasn't interested in spending my vacation just lounging on the beach. Instead of backing out, I was determined to get the most I could out of a Caribbean cruise. What I learned from that trip, and continue to uncover during more recent Caribbean travels, is because of their rugged terrain, diverse ethnic makeup, and interesting history, a visit to the islands can be full of adventure and local culture.
Here are some adventures my favorite Caribbean Islands have to offer:
Dominica
As one the lesser known islands, Dominica is still very much off the beaten path. An enormous part of this little island is rainforest that's just waiting to be explored. Whether you hike Middleham Falls, Boiling lake or maybe a something a bit tamer, you'll be surrounded by volcanic peaks, unique wildlife, and tropical fruit right on the trees. Dominica will certainly be a warm break from the cold winter back home.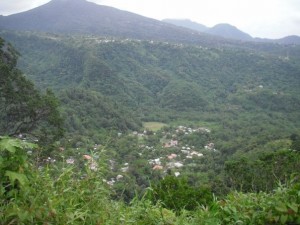 Trinidad
Most visitors to Trinidad & Tobago stay on the resorts in Tobago. Instead, spend your vacation on the island of Trinidad. Rent a car and drive around the exterior of the island, while listening to the sounds of steel pan drums and sampling street food delicacies made by Trinidad & Tobago's ethnically diverse locals. Favorites include: doubles, pineapple Chow, and bake n shark. Not sure which of the many bake n shark vendors to go to? Try the most famous, Richard's. If you are yearning for some beach time, make a pit stop on the northern coast where there are several local beaches like the popular Maracas Bay.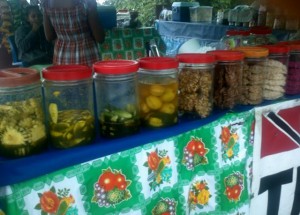 St. Lucia
Swimming with the horses takes beach time to a whole other level in Saint Lucia. My first horse riding experience was at St. Lucia with the International Pony Club. We rode through plantations, on to the sandy beach, and continued bareback deep into the Atlantic Ocean. Unfortunately, since this was a shore excursion, I was unable to stay for the BBQ dinner held right on the beach.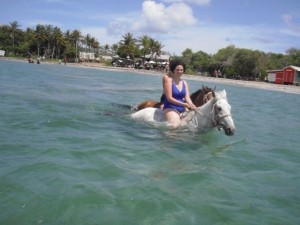 St. Kitts
"It's the journey, not the destination" holds true for St. Kitts. Kayaking on the crystal clear Caribbean Sea as you pass secluded coves is only half the fun. The other half is the journey getting there; driving through the rugged mountain ranges of the Southeast Peninsula, while spotting wild vervet green monkeys, and passing the rough Atlantic Ocean on one side of the road, the calm Caribbean Sea on the other. It's here where you can really appreciate the diverse landscape of the Caribbean.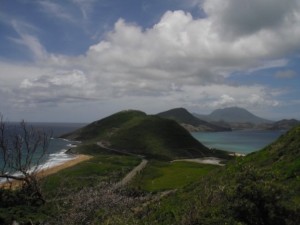 Barbados
Just a few minutes' walk from the cruise port in Bridgetown, there's a local artisan market called Pelican Craft Village. Here you can watch local artists at work; handmade jewelry, paintings of local scenes, and other crafts. While I explored the village, I met the sweet owner of Ann's Craft Centre, Gloria Gaskin. Gloria hand-weaves the straw bags and hats she sells not only to cruise passengers visiting for the day, but also to prominent figures like Hillary Clinton. The walls of Ann's Craft Centre are covered with photos of and letters from other famous customers of Gloria's goods. Gloria's crafts are apparently even sold at "the world's largest department store," Macy's. Gloria told me a little secret though: she sells her handmade bags for much cheaper on the island.­­­­­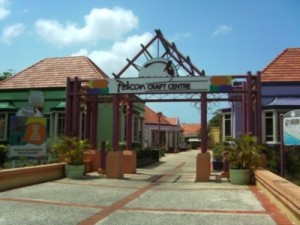 Whichever activity you choose for yourself this winter, think warm, think Caribbean—and don't forget to pack the sunblock!